This year we were joined by 2 new members who have been found since our last Reunion in 2009. They were Dennis Wiseman & David Steele both who were in Troop 'A'
This year 7 wives joined their husbands at our Lunch on the 24th July which attended by 10 members, sadly Bernard Spillane who came last year, and is now totally blind felt he could not enjoy the occasion so he has declined.
We met as we had done last year at the Miller & Carter Restaurant, Sutton Coldfield as this was central for most of the members. Only Chris Rowland who came from Christchurch, Hants and myself from Rayleigh, Essex had the longest journey of all the members who attended.
We all meet at around 12.00 and this gave us time to introduce ourselves to Dennis & David who were meeting up with the other 8 of us for the first time and get to know each other also for our wives to meet everybody.
I was a little disappointed that of the 10 members, I was the only one from Troop B, but at Mike & John have pointed out, they have adopted me as a hononary member of Troop A.
We received many good wishes from members who were unable to attend this year as it clashed with other commitments, we also received good wishes from Roger & Ann Bagguley who had just returned from holiday late on Thursday night to a problem which made it difficult to attend the reunion- we hope everything is ok now. Russell Temple who lives in Australia sent good wishes to everybody and hoped we had a good time.
We took the following photo's on the day but somehow my camera is showing the 23rd July but I can assure you all they were taken on the 24th. Photo's supplied by John Harris & Roger Norman.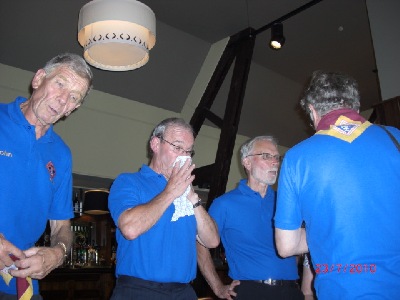 I am not sure what John Harris is doing, but Mike Phillips is the person blowing his nose,on his left is Derek Anderson & with his back to the camera is Bryan Lee wearing the Original Jamboree Scarf.
Eight out of Ten, in the Group Photo below? unfortunately Dennis Wiseman & Gregor McGregor had left before this photo was taken but you can find them in other photo's.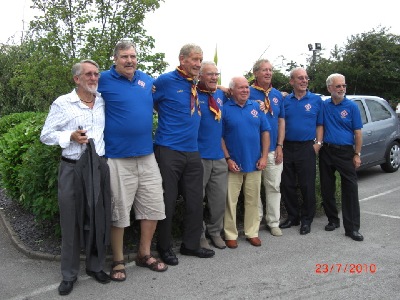 Left to right. Roy Ingram, myself Roger Norman, John Harris,Chris Rowland, David Steele, Bryan Lee,Mike Phillips & Derek Anderson.- What a happy bunch!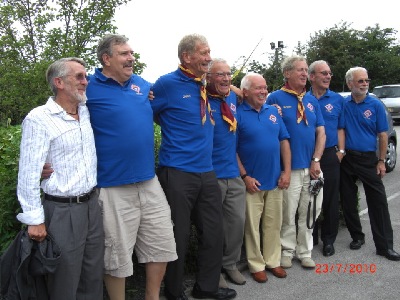 What a difference a nice lunch and good company makes! It was so nice to see all the members wearing their Reunion Polo Shirts. (Sorry except Roy who came very smart in a suit)
Just in from Roy Ingram-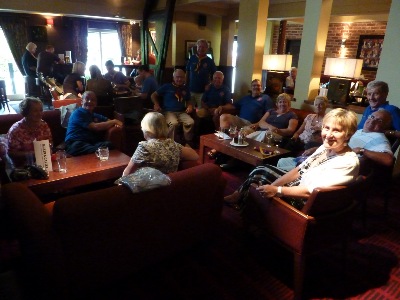 Our group in the lounge there are a few missing?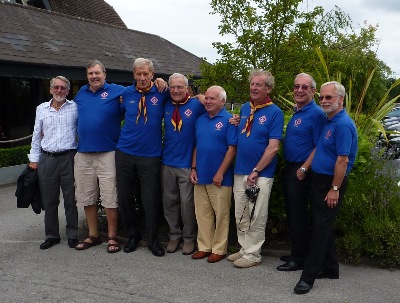 Taken from a different angle, it shows the Logo on the Polo - what a handsome and happy lot we were!
Bryan Lee (6th from the left) has written and told me how he met David Steele (5th from the left) at this reunion the first time for 51 years, and he was delighted to see David again. Bryan said David is featured on his DVD (8mm file put onto a DVD) a couple of times - Opening coconuts and standing by the Totem Pole between Lord Rowallan the Chief Scout and Jose Vargas Chief Scout of the Philippines.
Our 3rd Reunion in our 53rd Year was on Sat. 15th October 2011!
Currently we have 33 members who want to stay in touch, they now have a directory with details of how to contact each other. Should any other member decide they want to made contact with another member please contact me and I will make arrangements as required.
Our 2011 Reunion went ahead on the 15th October 2011 it was held at The Clarendon Arms, 44 Castle Hill, Kenilworth CV8 1NB which is almost opposite Warwick Castle. their web site is www.clarendonarmspub.co.uk Tel 01926 852 017 and it is where we have held our last 3 lunches.
It was attended by 14 members including Bill Branston who was the last person who we traced and 4 wives, sadly although we changed the date to October as most members had said that was the best time for them! A number unfortunately had other commitments which reduced our numbers. The good news was we had 4 more members than last year and quite a number of apologises from members who would like to have attended but had other family commitments as well.
We were pleased to welcome Geoff Mullett who came from Singapore on his way home to Jersey, Bill Branston, Brian Woodcock, Chris Rowland. David & Ann Steele, Dennis & Wendy Wiseman, Derek Anderson, John & Janet Harris, Mike Phillips, Rev John Morley, Roger Bagguley, Roy Ingram, Gregor & Irene McGregor & me (Roger Norman) We also had a visit from Gillian Anderson who popped in with her grandson to pick Derek up.