My name is Roger Norman and I have been in Scouting all my life, currently I am in the same Scout Group in East London 14th Hackney (St. John at Hackney) that I joined in 1953 and whom I represented as a 17 year old Queen Scout at this Jamboree in 1959. Our Group was 109 years old in May 2020 and I have been a member for 67years. In 2011 - I received my 50 year Chief Scout Long Service Award for Adult Leadership, On the 2nd November 2012 I was very proud to receive the Award of Merit from our DC Alan Hands on behalf of the Chief Scout Bear Grylls. I have been a Rover Scout since 1960 and a proud member of The Capt. Oates Rover Crew we have been meeting continuously since 1920 all through WW2 and have continued to meet weekly since HQ disbanded Rover Scouts in 1968. We meet every Thursday and have a full program, with something different each week. I am an official member of The Scout Association and in 2010 we formed The Fairmead Scout Active Support Unit which is based at our Fairmead Scout Camp Site near High Beech, on the edge of Epping Forest in Essex this Unit has 28 active members and is currently involved in many projects throughout our District. Our main aim it to maintain and look after our Scout Camp Site where I have been camping since !953. In 2017 we had a new state of the arch Toilet Block built to bring our toilets upto H & S regulations for the future it is a very mordern block that has a fully disabled toilet and shower room. We now have toilets for Boys and Male Adults and Girls and Female Adults if you need to know any more about this site have a look at www.fairmead.info this is an official East London Scout Association Camp Site.
In May 2018 after celebrating our 107 years "OLD" we had to vacate our Scout Headquarters which we built in 1952 and have used it for the last 65 years on a regular basis for Beavers, Cubs, Scouts,Senior Scouts, Venture Scouts,Rover Scouts together with Guides and Brownies- I have attended here on a weekly basis over the last 64.5 years and we were all very sad to see it go, we hope it will be replace in about 2 years time with a new modern building, our Scout HQ is being pulled down to make way for future development around St John at Hackney Church. Currently our current units have found other places to meet until our new HQ is ready. The Capt Oates Rover Crew & The Fairmead Scout Active Service Unit are now meeting on a Thursday Evening instead of a Friday night, a change after 97 years but it has been welcomed by most as it gives us more opportunity to spend more time with our families and go away at weekends now we are all getting older.
Capt Oates Rover Crew - currently have 20 members whose continuous total years service in the 14th Hackney Scout Group add up 1,472 years between us and whose Adult Leadership adds up to 1,390 years with members receiving The Chief Scout's Commendation for Good Service awards ranging from 25 years service to 70 years service. I would like to congratulate Frank Graham who celebrated his 92th birthday in January 2020 and was awarded The Chief Scout's 70 year Long Service Award nand has been a member of the 14th Hackney since 1936 (82 years)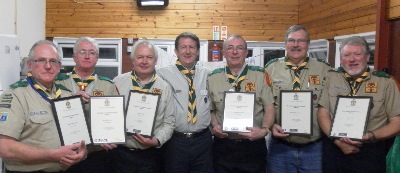 Our Rover Crew has a membership of 20 and a service record of 1472 years service between the members. From Left to right we have Alan Saunders (40 years) David Carr (50 years) John Riddick (40 years) Alan Hands (Our DC) Len Oatham (50 years) myself Roger Norman (50 years) and Peter Brown (50 years) These awards were made by our DC on Saturday January 14th 2012 at our Annual Christmas Camp- 6 members received a total of 270 years Service. Since then we can add another 36 years to the total 306 years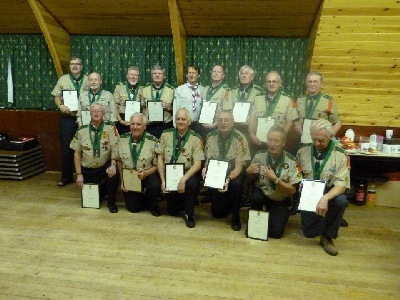 14 members of our Capt Oates Rover Crew receiving The Award for Merit from our DC Alan Hands on 2nd November 2012. The first time 14 members of the same Group have received such an award.
The members are from Back Row left to right, Roger Norman, Frank Graham, Peter Brown, Stewart Swan, Alan Hands DC GLNE, Garry Cooper, Ron Hasler, Alan Saunders, George Bartrip. Front row l to r - David Carr, Joe Olivo, Paul Carr, Len Oatham, Derek Verlander & Frank Saunders.

Congratulations to Frank Saunders who was awarded The Silver Acorn and Garry Cooper who has been awarded The Bar to the Award of Merit for services to Scouting and for all the hard work they put into our New Toilet Block 7 years from concept to finish (2017)....Awards made in 2018

I have added what Alan Hands said about us 'An extra-ordinary night' - "The words extra -ordinary and unique are over used. However last Friday night 3rd November was both extra ordinary and unique as I had the pleasure of presenting 14 individual Awards of Merit all at the same time. These individuals have provided over 700 years of dedicated adult Scouting service to the young people of Hackney. However these awards were not recognition of length of service but rather recognition of the individual impact they have achieved whether it is through supporting local charities such as care homes for ex service personnel, or fundraising, running events for the District such as the Swimming Gala and practical skills camps, annual thank you evenings for the leaders of the 14th Hackney, or the hard work improving the facilities at our District camp site for the benefit of more young people. They are a real band of Brother Scouts who come together in fellowship and friendship to share memories whilst also helping to create positive life long memories for future generations of young people in East London. I was humbled to be with them ".

Capt. Lawrence Oates he died on 17th March 1912 aged 31 years old, one of 5 men who died as they returned from Robert Falcon Scott ill-fated expedition to the South Pole in 1912. Capt Oates is remembered because of his self-sacrifice, committed because he believed he was slowing the others down. He will also be remembered for "I am just going outside and may be some time"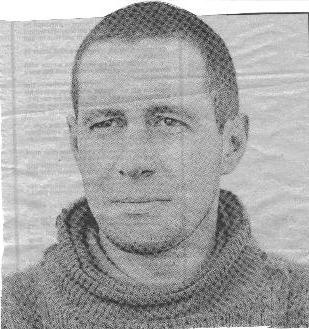 Captain L E G Oates Inniskilling Dragoons -'A Very Gallant Gentleman'
Our Capt. Oates Rover Crew has spent over 60 years servicing our District Camp Site -'FAIRMEAD' see
www.fairmead.info - helping to buy the Land and undertaking various major projects including The Main Hut, The Log Cabin, Under cover Eating Shelter and many other projects to numerous to list. -OUR MOTTO - O A W if you want to know what this stand for ' Horrid' Hard Work' to be polite, but in the East End of London we do not always sound our 'H's

Our Latest project is a new Toilet Block this is to bring our Camp Site into the 21st Century with upto date facilities for our disabled scouts and visitors.
The project has been ongoing for some 7 years and the project got under way in late 2016 and was completed in April 2017. It is planned to open this Toilet Block on April 22nd at our St Georges's Day celebrations at Fairmead- sadly this event was cancelled but the New Toilet Block was up and running well before 22nd April, It is a complete work of art and a lot of time and effort has been put in by 2 members of the Capt Oates Rover Crew and Fairmead Scout Active Support Unit namely Garry Cooper our Rover Leader and Frank Saunders. Have a look at our site www.fairmead.info
When I camped here in 1953 it was just a field, only a tap for water, how things have changed and only since 1980 have the building's been errected.

Four of our Scout Leaders lost their lives during WW2 and are remembered by us as they helped keep our group alive and meet regulary during the war. "Gone Home" but never forgotten.
The Scouting Memorial at the National Memorial Arboretum will remember all those who have given any service to Scouting, with a special remembrance of those members who have suffered through conflict. It was opened in June 2016 and it is well worth a visit I have now been three times.
memorial@birminghamscouts.org.uk Or visit the website www.tsmp.org.uk.

Ron Collings 5/3/1923 to 8/7/1944 aged 21 yrs who was a member of RAF Volunteer Resv. 207 Sqdn, he was a Wireless Operator/Ait Gunner and a member of Lancaster Bomber Crew ND866G / EM-B and is buried with 5 of his fellow crew members in a large grave in Neaufles-St. Martin Churchyard Nr Gisors France. There is also a Memorial Stone errected by the villagers very close to where their Lancaster crashed.
Alan Francis Piesse (Pud) who died 19th July 1944 aged 24 yrs he was a 2nd Lieutenant of the Royal Tank Regiment R A C and is buried in Ranville War Cemetery not far from "Pegasus Bridge" his grave is like many other with name, number & rank but Alan has engraved lower down "A Scoutmaster with the St John at Hackney" London and underneath "ALL MEN LOVED HIM" Alan was once described by a former District Commissioner who had known Alan since school days as ' A Lad who completely met B.P's specification of what a Scout should be' He was also a Tank Commander in the 5th Iniskilling Dragoon Guards (B.P's old regiment)
Walter Charles Dorrington MBE was a Lieutenant in 2nd Airbourne Bn South Staffordshire Regiment who dies on 9th July 1943 aged 25 yrs he was killed in action during the invasion of Sicily at the time he was a glider pilot in the Army Air Corps. He is buried in Cassino Memorial Cemetery in Italy
William Alfred Surridge was a Private in 1st Bn Royal Berkshire Regiment he died 8th March 1945 aged 25 yrs after seeing service in Norway, India & Burma where he was attached Ord. Wingate's Chindits a special operations group who fought mainly behind Japanese lines, he was killed in action at Fort Delphin near Mandalay and is buried in Taukkyan War Cemetery Nr Rangoon.
As Ron Collings & Alan Piesse's graves are in Normandy France it gives my wife and I the opportunity to visit both graves at least once a year.
I feel very proud to have been able to build this web site and share with all the Jamboree members traced some of their memories, and especially be able to share my personal Scouting History that I have recorded over the last 59 years.
During my searching I have been aware that there are still several Scout Groups like my own who have celebrated continous Scouting since they were founded.
Scout Groups over 100 years old and still going strong.
Bob Rayland belonged to 'Earlswood-2nd Reigate Scout Group in Surrey and they were founded in the late part of 1908 -see http://www.2ndreigate.org.uk/aboutus
Richard Stevens belonged to 20th Derby (St Augustines) they were founded in Feb 1910.
My Group is the 14th Hackney (St John at Hackney) and they were founded in May 1911- see http://www.14thhackneyscouts.org.uk
In 1957 I was a day visitor to the 50 years Jamboree held in Sutton Park , Sutton Coldfield and since then I have been a day visitor at the 18th World Jamboree held at Dronten, Holland in 1995 "The Future is Now" and again in July 2007 I attend The 100th Centenary Jamboree held at Highlands Park, Chelmsford, Essex "One World, One Promise"
I have held a warrant for many years, and currently I belong to the Capt. Oates Rover Scout Crew (a member for over 56 yrs.) based in East London as well as being a fully paid up member of The Scout Association.
In 2007 some of us attended a Exhibition held in Herts to celebrate 40 years since Rover's were closed by The Scout Association and over 60 years since our Rover Crew were invited to work on this Hertfordshire Scout Camp Site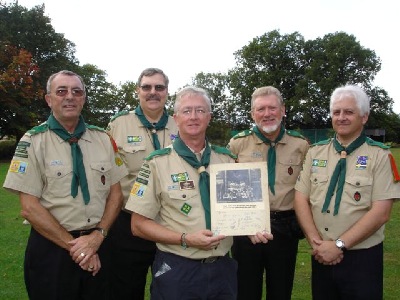 From L to R are Len Oatham ,Myself, David Carr, Peter Brown & Paul Carr.in full Rover Uniform of the Capt. Oates Rover Crew (14th Hackney Scout Group-St John at Hackney) as we meet every Friday throughout the year, and have done so since we were founded in 1920's (Our Group was Founded in 1911) David is holding a photo which I have tried illustrated below by taking a photograph of it.
14th Hackney- Capt Oates Rover Crew who in the 1950's over several weekends helped to improve Well End Campsite in Herts.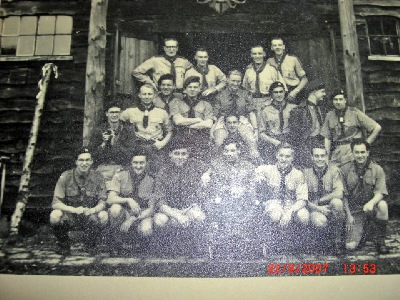 This Photo was taken nearly 60 years ago.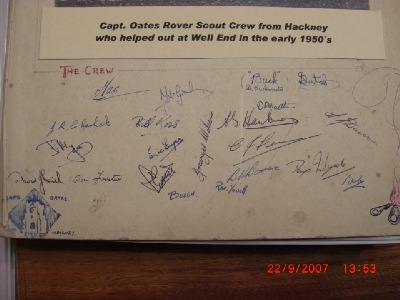 Of the 21 members who signed the above 2 are still alive today, in fact we still have 1 member who is over 90 yrs old and attend our Rover Crew he about to receive his 70 years Adult Service award (You have to be over 18 years old before you can start counting the years of service.
Rover Scout Exhibition held in 2007 at Well Hall Scout Site in this picture you can see Paul Carr and his son Jamie who attended the 21st Jamboree in July 2007 at Highlands Park Essex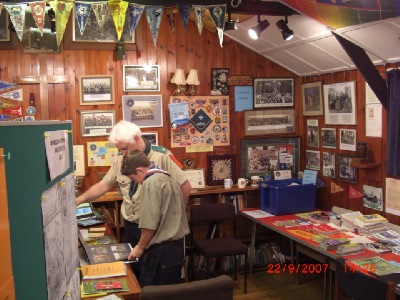 FELLOWSHIP/ SCOUT ACTIVE SUPPORT UNIT
I was the Treasurer & part time Secretary of our Fairmead Scout Fellowship which has now closed - (All Fellowships closed on 31st December 2010) so I have stayed in the movement by becoming a coordinator of our new Fairmead Scout Active Support Unit or FSASU for short.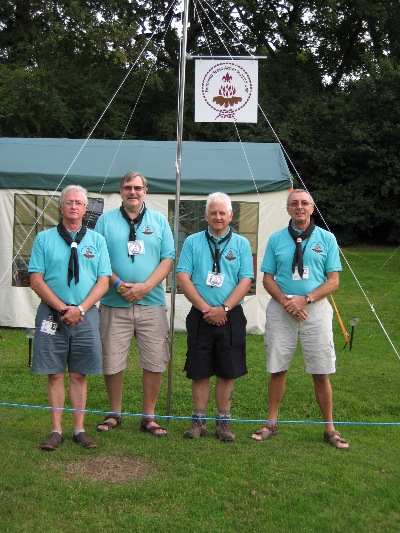 The above photo was taken at the Gilwell Reunion in September 2010 and from L to R are Dave Carr, Myself, Paul Carr & Len Oatham. We are all wearing the FSASU Polo together with out new Black Scarf with badge on the back. It's a pity about the matching shorts? Paul Carr is our Manager and he was appointed by our DC Alan Hands, Paul like myself has done a Wood Badge (His was compulsory and was awarded it by our DC in January 2011 at our Capt Oates Christmas Camp held at Fairmead Camp Site High Beech, Essex.
I gained my Wood Badge in August 2010 and I was presented with it by District Commissioner Alan Hands on the 5th November 2010, I have now completed this training for my role as coordinator in FSASU.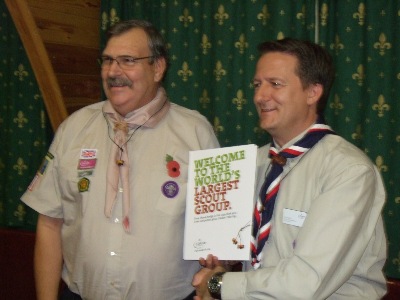 Wood Badge "It was an honour for me to present Roger Norman with his Wood Badge on a visit to the Captain Oates Rover Crew before Christmas. Roger is the first Scout Active Support Co-originator to complete his Wood Badge in the UK and his Personal Training Plan evidence was judged outstanding. He has a host of Scouting knowledge to draw upon with a host of experiences stretching back over 50 years. I was so struck by his knowledge and love of International Scouting that I recently asked him to speak with the young members from our County who are attending the World Scout Jamboree this year. To get a flavor of his Scouting history look at the web site he has created www.philippines1959jamboree.co.uk . (This site of course)
"Roger congratulations, you are an inspiration". Alan Hands District Commissioner - East London presenting me (in my new official Uniform ) with my Wood Badge and I now belong to the 'World's Largest Scout Group - 1st Gilwell Park Scout Group
In September (2010) I had a 'Special Holiday' which included visiting some places like Kandersteg which I first visited in 1958 and fell in love with and The Simplon Pass which I towed a caravan over to get to Lake Maggiore but on the 1st July 1971 because they had a very heavy snow fall it was closed until the snowploughs had been able to open the road. As both these places were visited many years ago I wanted to see how they had changed, so I have added some pictures which you might find interesting. This year I stayed at Des Alps Hotel in Kandersteg for a few days and visited the International Scout HQ and Camp Site. In 1958 & 1959 we used to stay at the annexe attached to the Simplon Hotel (now closed) after the Jamboree in 1959 I went to Kandersteg. Each time we visited Kandersteg we spent 2 weeks climbing in the area and achieved many great climbs including the Bluemlisalphorn and Lotschberg Pass.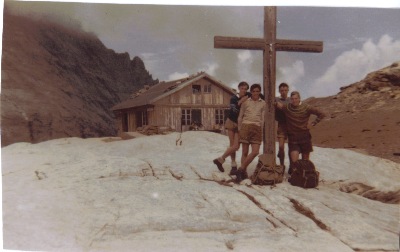 The above photo was taken in Aug 1959 after I had arrived back from the Philippines Jamboree within 2 days I was off to Kandersteg and soon climbing at the Lotschberg Pass Cross, L to R are Graham Barnes, Martin Ayling, Len Oatham and myself this was taken after leaving Kandersteg at about 6.00am and climbing for about 5 hours. I have recently been sent a photo of how the Cross and Unit in the back ground looks now.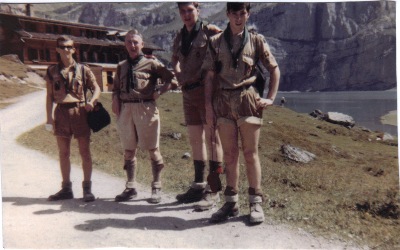 The photo above was taken in 1961 when we visited Kandersteg & Bavino Italy and the group consist of L to R Don Goodman, The Rev. H S A Pink Rector of Hackney who was incharge of our party, myself & Bobby Waker, we are either walking to or coming back from the 'Oeschinensee' which was about 2hrs from the Scout Camp Site in Kandersteg. Below on this page are some photo's taken at the 'Oeschinensee' this year (2010)
So on to the Holiday when I drove across France from the Channel Tunnel into Switzerland, over the Simplon Pass into Northern Italy and down to about 80 miles north of Rome. We came back a simlar way but crossed from Italy into Switzerland via the St.Bernard Pass a wonderful experience and holiday.
While staying in Kandersteg we visited The International Scout HQ & Camp Site which I last visited in 1994, my car can be seen between the flag poles, but it is on the otherside of the stream. This is the main entrance to the H Q camping is on the other side of the main road.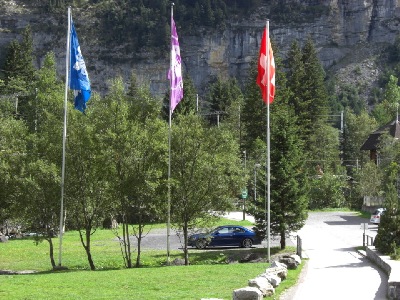 Below is the main office, between some of the accommodation buildings.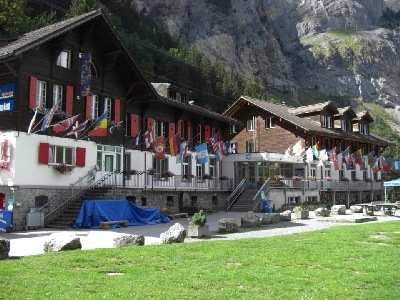 While staying at Kandersteg, we visited "Oeschinensee" it took me after getting the chair/pod lift to the top another 20 mins walk down to the lake and about 50mins back to the lift. This was using 2 sticks to walk, I do not expect I shall do it again!
Below is a view of the Lake from the Bar/Cafe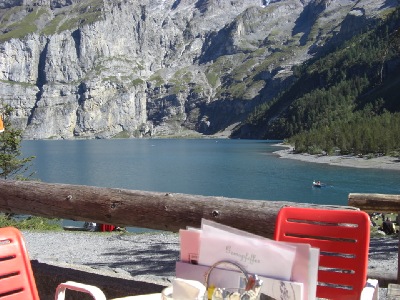 Below is a view from the path walking towards the Lake, to the left of this picture at the top of the ridge where it meets the sky is "The Bluemlisalp Refuge" which is about 4 hrs climb from the Lake. Yes I did it in 1959, and we swam in the lake!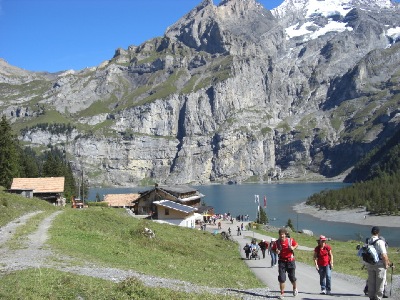 Another view from the bar/cafe looking across the lake to the Doldenhorn, Frundenhorn, Oeschinenhorn and the Bluemlisalp-horn which cuts across 4 Glaciers.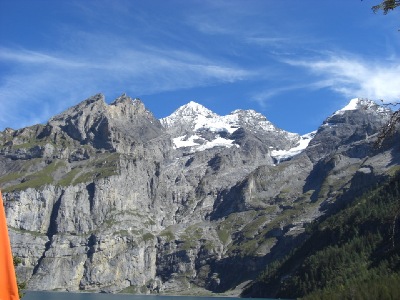 From Kandersteg, we took the Lotschberg Tunnel which is 14.6km/9miles and was created in 1913 as a direct link through the mountains between Berne & the Rhone Valley. The railway conveys motor cars etc from Kandersteg to Coppenstein, from here we drove to Brigg and over the Simplon Pass 2005m above sea level towards Northern Italy.
Simplon Pass 2005m above sea level.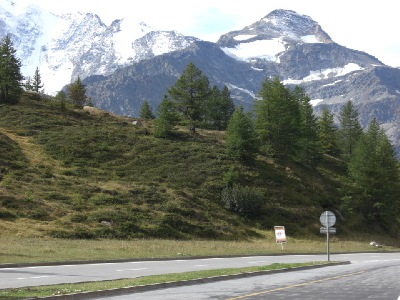 Back to Scouting!
I feel I have been very lucky to have had so many wonderful experiences through being involved in Scouting at various levels over the last 60 years in that time I have met 4 - Chief Scouts the first was Lord Rowallan KT.KBE,MC.TD who I first meet when I was 14 yrs old in 1956 and then again at the Jamboree in the Philippines in 1959.
In 2003 I met George Purdy CBE.
On the 8th March 2007 at St. George's Chapel Evensong for the Dedication of the Rutland Chantry Furnishings and the Consecration of the Altar I met and had a very enjoyable discussion with Chief Scout Peter Duncan.
I have travelled and visited many parts of the World through being in Scouting, I had a warrant from 1961 to 1968 and when I got married and moved 65 miles away from London, I had to give up being Leader due to the distance and work commitments but I still attended weekly meetings.
Some years ago I decided I would like to try and trace some of my "Old Scout Friends" who like me attended the above Jamboree in the Philippines in 1959, as I have so many fond memories of that year!
I started by trying to trace Scouts who were in my Patrol 2 from Troop B and they were Spencer Flack, Robin Oborn, Michael Bates, Victor Courtice, Anthony Revel, John Roberts, myself and Philip Taverner who came via the Overflow Party.
(Dark Typed names - have been found) We all came from different parts of London & Home Counties -so it seemed we all clicked in 1959.(Sadly it is proving almost impossible to trace Anthony Revel & Philip Taverner) and sadly sometimes when found not everybody is interested in getting together or being involved.
In May 2006 I was able to trace our Contingent Leader -Laurence Stringer OBE who was living at Chislehurst, Kent a frail 94 year old. I wrote to Laurence and he typed a reply and we spoke on the telephone several times but after trying to arrange a meeting which he kept putting me off, I backed off. So I decided I would try and see how many other's I could find.
I have so many fond memories of the things our Patrol got up at the Jamboree even our daily tasks which each patrol had to do, Cooking, Latrine Duties, Keeping the site tidy etc, we choose to sleep under canvas instead of the wooden and bamboo huts provided this we kept our food and equipment in and also used them to dry our wet equipment. One day after our duties were done we were bored so we bribed a Jamboree coach driver to take us off the Jamboree site and we ended up in a village where we where drinking with the locals a very, very strong spirit which was distilled from the bark of a tree, after about an hour we were picked up by the local Military Police and escorted back to camp in the same bus, afterwards we were all told it was very dangerous to leave camp without an escort but it was better that we did not leave the site again.

Our Patrol was very lucky as 4 of us were chosen to go to The First Conclave Meeting on 25th July 1959 of the 94 members from the UK only 24 Queen Scouts were allowed to take part, and only 8 Queen Scouts were chosen from each Troop A,B & C
With 4 patrols of 8 members how we maganged to get 50% of the Troop's total in one Patrol I never knew - we all must have been in the right place at the right time.
Our Troop B visited a local Coke a Cola Factory where we were shown how it was made? We given Coke a Cola at the Jamboree, because we could not get clean water to drink.
While we were in the Philippines Troop "B" attended a US Navy Fire "Prevention, Protection & Rescue" Department and for some unknown reason I was made a "Honorary Fire Lieutenant" and was presented with a Certificate which all the members of Troop B signed including our leaders.
A copy of this certificate is below.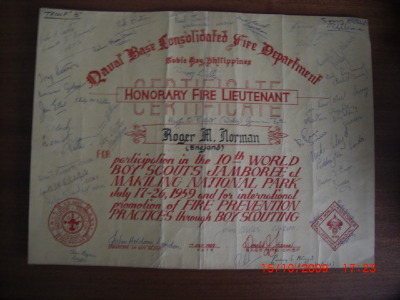 Were you in Troop B? So far we have found 24 members but we are still looking for the other 8-please get in touch. The web site page heading "B" Troop will show the members we are still looking for.
Having been able to read and recall all these names over the years, it gave me the opportunity of knowing who I was looking for, most lived in London and the Home Counties, I was sure The Scout Association would be able to help me! Unfortunately not, they had less information than I had, after the Jamboree "The Scout Association" was presented with a Log and Scrap Book all about the Jamboree by the Contingent Leader Laurence Stringer - that's all they had, after making an appointment at Gilwell and going to view this book I realised what a task I had set myself.
I set about trying to trace my fellow scouts who like me were in our mid to late 60's, I posted articles on Friends Reunited, Scouts Reunited, The Scout Association site which listed Jamboree's. I sent out email's to Scout Districts all over the UK the email's totalled over 300 and I had some good support from many area's who put the word out for me.
While tracking down other members, many told me they had lost information, photos and other memorabilia over the years, due to house moves etc., (although at our reunion I was very surprised at the amount on display it seemed some members had raided their attics and found what they though they had lost)
At the Jamboree in 1959 I took a wind up/ clockwork 8mm cine camera, the film was put onto a Video some years ago and I recently had it transfered on to a DVD, this I was able to show at our reunion and several members told me how much it bought back their memories, so this is another reason why I have set this website up to help those who want to be reminded of that "Trip of a lifetime to the Philippines"/10th World Jamboree. Todate another 3 members have sent me copies of their Jamboree photos on DVD's
Everybody I have contacted via email, letter or spoken to have said the same thing "They felt their lives had benefitted from this wonderful experience"
While I was searching for Warwick Lattin who came from my home County of Essex, I traced Warwick to South Africa, but since he has fallen off the map, and all my emails are bouncing back.
So far we have traced members to 1 in Australia, 3 in Canada, 2 in South Africa, 1 in Zambia, 1 in France and 1 in Jersey- So please help me to track down the other 12 we are still seeking! as we would like you to join our very Special Membership of the original 94, yes only 94 Queen Scouts attended this Jamboree, where as Jamboree's these days have thousands of scouts who are not Queen Scouts go. Thank You.