Commemorative Polo Shirts- supplied by Roger Norman
As worn by some members at our reunion in July 2009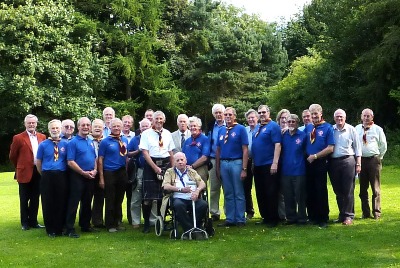 I have been able to arrange to purchase as many as we want at a special discount rate. See below for details.
Commemorative Polo Shirt, Royal Blue with the Exact Philippines Logo on the left hand side this is embroidered and not a stuck on badge! Underneath the Logo in Gold Braid 1959-2009 it costs £14.00 plus P & P if you want me to send it to you and they come in the following sizes.
I can also arrange Fleeces with the same badge on, but I cannot decide a colour I think the Royal Blue would look good.
Small 40; Med 42; Large 44; X Large 48; XXL 50; 3XL 52 & 4XL 54
They can also be printed with your name or nickname for an extra cost price on advice,
In 2019 we celebrated our 60th Year and the Company that produced the above Polo also did a Special run for me and I was able order and purchase (1) A Fleece (2) Polo Shirt & (3) Cap all with the Jamboree Logo all still available to me.
I am hoping to put some Photos on here soon when I get the hang of rebuilding and updating this site.
Any of our items will always be available from me!
I am happy to post anywhere as long as price paid includes the p&p. If you order over the web, just tell me what you want and where it has to go and when it is despatched I will email you the cost and then you can sent the money. They have been sent to several members abroad.
As I am not a business, just a fellow scout I do not carry any stock, all these are ordered, paid and collected by me, it can take upto 2 weeks before I can supply all your requirements.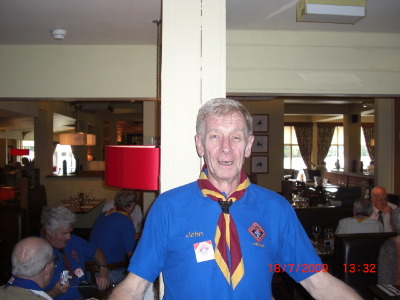 I met John earlier this year and he was wearing his original Polo shirt just shows you they are value for money, he is a picture of John taken in 1959 modelling one of our Polo Shirts and original Scarf & Woggle given to us at the Jamboree and he had his name added but they are available without the name, (the other badge under John's name was a label we used for the reunion) several others have one with their name and one plain. Or if you are like me