Troop "C" consisted of Scoutmaster Dr. John Alan Chalmers from Durham and he was assisted by Thomas Bradbury from Stirlingshire and Lt.Dennis Foster who came from Malaya this troop consisted of 31 scouts divided into 4 patrols and the Scouts mainly came from the Scotland (10),Yorkshire (8), Lancs (4), Northern Ireland (3) Manchester (1) Durham (1) Dublin (1) Singapore (1) and Bristol (1)
Included in this troop were 12 members of the 15 members of the "Overlow Party" that travelled on a different route out via Singapore and on the homeward journey they stayed 7 nights at Colombo.
I have been told that some members of the Overflow party that travelled BOAC Bristol Britannia from London, travelled to Istanbul, then to Beirut (having been refused permission to land at Baghdad) from Beirut to Karachi onto Kuala Lumpur then to Singapore where they stayed 2 nights before flying onto Manila. On the return trip after the Jamboree they flew from Manila to Singapore (again staying for 2 nights) and on to Columbo where they stayed for a while, also on the return journey they were allowed to land at Baghdad to refuel.
I understand that the 3 members from Northern Ireland and the Michael Webb from Dublin travelled 5 days earlier than the main Party staying at Singapore for 5 days on the way out and spent a week in Ceylon after the Jamboree was over. You can read an article Michael has sent me - in Troop C Members History
TRACED MEMBERS and which Scout Group they represented at the Jamboree in 1959 if known..
Roger BAGGULEY-(O) - 1st Wythenshawe, 2/275th Manchester Scout Group;Thomas BLOOMER-(O) 3rd Ballymena (West Presbyterion Church) Scout Group, Northern Ireland; David CLAYMORE(O) - Lockerbie Scout Group, Dumfrieshire; Ewart CROWTHER-(Now living in Zambia) Belle Vue Boy's Grammer School (4th Bradford West Group); David GILBERT (Now living in Canada) - 151st Fishponds Baptist Scout Group, Bristol; Alan HALL- 20th North Leeds (Roundhay School) Sea Scouts: Geoffrey MULLETT (O)(Now living in Jersey)-46th Bolton Scout Group (Delph Hill);Iain ROBERTSON (O)183rd Glasgow(1st Kessington):David ROCHE 53rd Ayshire: Russell SKILLEN (O) Richard BURGESS - Scout Troop not known; Robin STRANG - 10th Perthshire; Peter SWALES (O) He did not get to the Jamboree see reference in Jamboree History(15th Airedale-St Oswold's): Iain TOPPING (O) -29th Glasgow Scout Group, Scotland;Thomas TURNER(38th Fife-1st Methil): Colin WALKER -1st Stirlingshire Scouts ; Michael WEBB Dublin He was the only Scout from Ireland:Rodney WILCOCK - 24th Halifax Scout Group and Philip WRIGHT - 2nd Heckmondwike Scout Group-Mirfield & Heckmondwike District: Richard WRIGHT 1st Ben Rhydding Scouts-West Yorks..= 20
(O) denotes they were members of the Overflow Party that travelled on a different route to us.
Sadly the following have died ... Harry NUTTAL; Timothy SAVORY; David TAIT (2011) :Geoffrey ELLIS (2010) 43rd Huddersfield Crosland Moor Scout Group;David POLLITT (2016)-1st Colne (Mayors Own) =5
WE ARE STILL TRYING TO TRACE THE FOLLOWING
Brian BOND (O) from Bangor N.I We believe Brian is a Doctor living and working in Ulster Still awaiting confirmation: Michael CLARK from Durham City : Desmond JOHNSON from Shepherds Hill Estate Singapore - This person has been almost impossible to find. John KELLY from Falkirk, Scotland: John LAMBERT from Clitheroe :Thomas PARKINSON (O) Huddesfield, = 6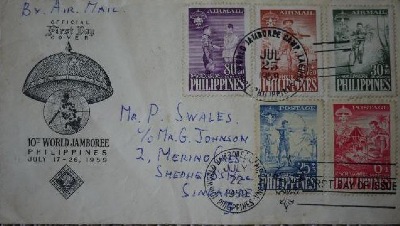 This First Day Stamp Cover was supplied by Peter Swales who did not make the Jamboree due to having been grounded at Singapore with burst eardrums. Peter was under the impression we all got one of these but I know I didn't I wonder how many of you also obtained one?