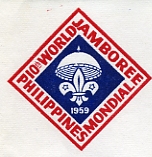 18-28 JULY 1959


BUILDING TOMORROW TODAY


MABUHAY!!
MABUHAY! - Asia's First World Scout Jamboree
The Jamboree was held at Makiling National Park, Los Banos, Laguna, Philippines between July 18th - 28th 1959. The Jamboree consisted of Scouts from 51 Countries and totalled around 2300 scouts with the biggest groups like China(700); Japan(560); USA (324); and Korea(200)' these 4 countries sent a total of 1784 out of the total 2300, so the other 47 countries sent 516 Scouts. By today's standards a very small Jamboree
MABUHAY! - Asia's First World Scout Jamboree-and we were there!
The Chief Scout- Lord Rowallan K.T., K.B.E, M.C, T.D also attended this Jamboree as the guest of The Boy Scouts of the Philippines, he also retired as Chief Scout after this Jamboree.
In 1959 -112 members of The Boy Scout Association represented the United Kingdom at the 10th World Scout Jamboree held in Asia this included the following party of Head Quarters Staff as below.
Contingent Leader - Laurence E Stringer T D., J.P
Chaplain - Rev. Kenneth C Oliver
Liason Officer for Rations and Supplies -Francis W Bosson - (who was also incharge of the 'Overflow Party' -14 Scouts who travelled independately of the main party.)
Commonwealth Secretary -Peter Cooke
H.Q 's Commissioner (Handicapped Scouts) - E M F Payne O.B.E
Interpeter - Jacob Y L Beresiner
Organising Secretary - George F Witchell
There were 3 Scoutmasters and 8 Assistant Scoutmasters and 94 Boy Scouts between the ages of 15 to 18 yrs old.
The 94 Scouts divided into 3 Troops,
Troop "A" Consisted of a Scoutmaster Duncan Barber (known as Ali-Barber) and he was assisted by 3 ASM's they were John Bailey from Birmingham, Pte. Peter Basnett who came from Singapore and Sub-Inspector Peter Jones who was in the Hong Kong Police, the 31 scouts were divided into 4 patrols of 8 boys who were mainly from the Birmingham & surrounding area's.
Troop "B" My Troop consisted of a Scoutmaster Charles Cutress (known as Tony Curtis) and he was assisted by 3 ASM's James Elliot from Surrey, Norman Gilbert from Monmouthshire & Pte. Alan Lyne from the GHQ Medical Centre, our group of 32 boys were divided into 4 patrols of 8 boys who mainly came from the London & Home Counties area with 4 from Wales, 1 from Somerset.
Troop "C" Consisted of Scoutmaster Dr. John Chalmers and he was assisted by Thomas Bradbury from Stirlingshire and Lt.Dennis Foster who came from Malaya this troop consisted of 31 scouts divided into 4 patrols and the boys mainly from the North, including Ireland, Scotland, Yorkshire,Lancs,& Dublin.- I am sorry I do not know much about this Troop.
Although 94 Scouts left for the Jamboree only 93 arrived, why because during the flight from the UK - Peter Swales in Troop C from Guisley, Leeds unfortunately had his ear drums burst on the plane and it had to put down in Singapore where he spent many weeks recovering and missed the Jamboree completely. As he was unable to fly home he had to wait for a suitable boat to take him on his homeward journey which included many port stops, a journey through the Suez Canal he has told me although he missed the Jamboree he had an adventure of a lifetime which he feels started his thirst for travelling and he ended up organising safaris (Swahill word for journey-nothing to do with hunting) on a world wide basis. Peter now lives in Inverness.
The Journey - From Heathrow to Manila
91 of us left London Heathrow in a B.O.A.C Bristol Britannia Aircraft at 12.00noon Sunday the 12th July 1959 and return on Thursday Midnight on August 6th 1959, but the other 21 delegates of the 112 travelled differently 14 were in the "Overflow Party who travelled via a different route, 1 came from Hong Kong, 2 HQ staff travelled independently and 4 travelled from Singapore.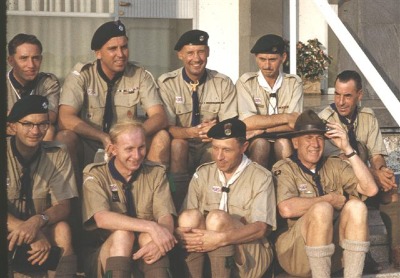 Photo 1
This picture was taken 50 years ago of the main group of our Leaders who travelled from Heathrow.-
The Leaders in this photo in no particular order are HQ Staff - Laurence Stringer-Contingent Leader & Jacob Beresiner-Interpeter; Troop A Scoutmaster -Duncan Barber, ASM - John Bailey; Troop B Scoutmaster-Charles Cutress, ASM's- James Elliot & Norman Gilbert; Troop C Scoutmaster - John Chalmers, ASM -Thomas Bradbury.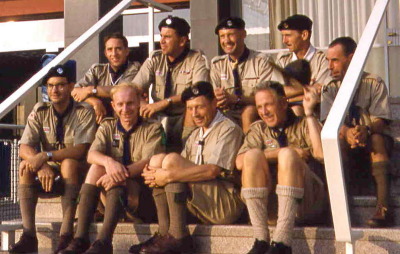 Photo 2 Same photo as 1 but from a different angle
Some of our Party at one of our schedule stops.

Photo 3 Some of our party excluding Scouts on the "Overflow Party" in this picture we have on the far left Rodney Wilcock with his arm up and in front of him is Ewart Crowther- thanks for the update 6/3/2012
Getting off the plane at one of our schedule stop at Delhi. India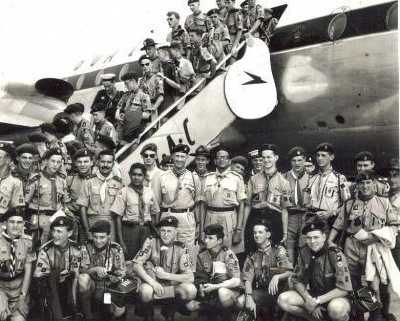 Photo 4 taken at Delhi
Front Row -L to R. 4th- Warwick Lattin, 7th (at end) Gus Norman
Are you one of the people in this photo? please get intouch if you have not contacted us yet, we are still looking for 24 Old Scouts!
The Jamboree
The "Jamboree Song" - Once sung never forgotten!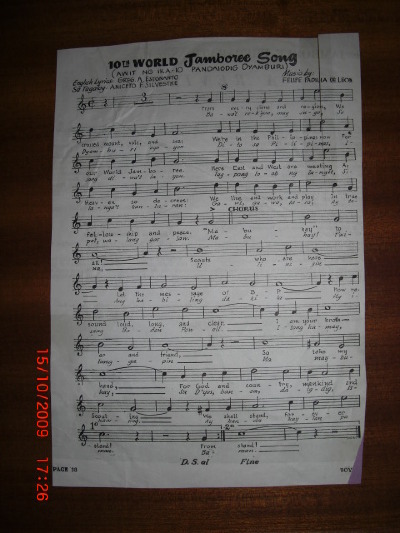 The First Day Cover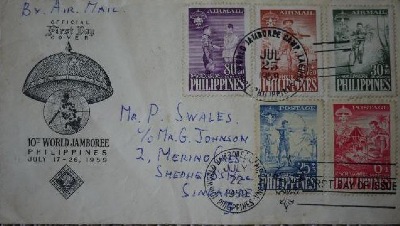 "The Corregidor Cruise"
Do you remember the trip called "Corregidor Cruise"? it was put on for all the 10th World Jamboree Boys Scouts and it was on 25th, and 28th to 29th July when we were guests on the Navy Ships of the Philippines and of the United States.- Our trip was 24th July and I think the ship was called Nettle and we all boarded at 08.30 at Piers in Port area of Manila, we left port at 09.00 and arrived approx 11.30 for our tour on Corregidor, we had to be back on board at 15.00hrs and arrived back in Manila at approx 17.30hrs-I have details of the brief history of Corregidor if anybody wants it.
Meeting - Mayor of City of Manila- Hon Arsenio H Lawson
During our stay in Manila I and five other Senior Scouts who bought a gift or letter from our Home Town Mayor's were taken by The British Ambassador and Laurence Stringer the Contingent Leader to meet Mayor of the City of Manila- Hon Arsenio H Lawson.
We arrived at City Hall just after a gun incident in the precinet, does anybody remember this incident?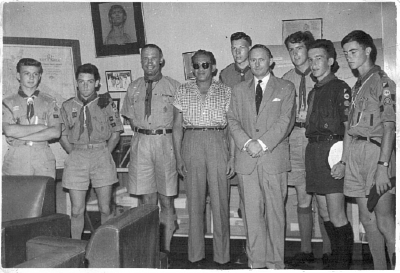 Photo 5
Taken in with The Mayor of Manila at our presentations. From (l to r) Harry Nuttal, ??????, Laurence Stringer, The Mayor, Roger Norman, The British Ambassador, David Gilbert, Mike Phillips, & Richard Homer
We are still looking for the name of the sixth person, can you help?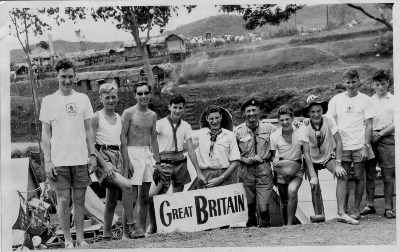 Photo 6
This was supplied by Bob Rayland of his patrol in Troop B and it was taken with Laurence Stringer our Contingent Leader in the middle in uniform.
From L to R; Bob Rayland, Grahm Boyles (Boiler),Garth Scholfield, Andrew Enticknap (Drew),Mac, Laurence Stringer, Chris- so who are the 3 boys on the left of Chris and which patrol was this? Please help me out here guys.
Photo supplied by Bob Rayland - Troop B's site and his tent is in the middle of this picture.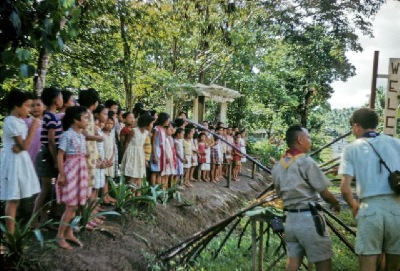 Visitors to our campsite line the roadways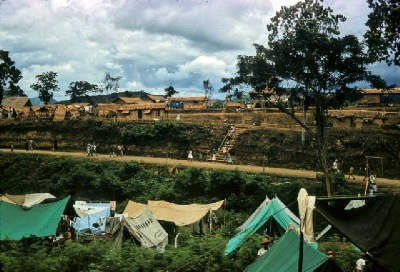 Part of Troop B's campsite as supplied by Bob Rayland