'OBITUARIES'- 'Gone to the 'Great Campfire in the Sky'
Headquarters Staff.
Our Contingent Leader - 3rd from left top row.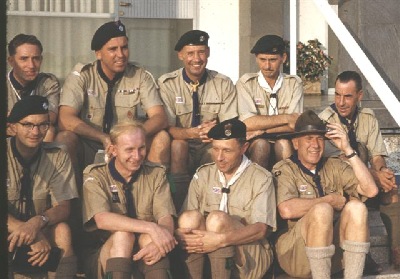 LAURENCE STRINGER OBE JP TD 1914 – 2008 Laurence died 14th May 2008 aged 94 and here is a little information I have gathered about him, I actually spoke and wrote to him in 2006 after finding him living in Chislehurst in Kent. Laurence had a long and happy career connected with Scouting. After spending 6 years in the Army, he went into the Territorial Army, he was a JP for 30 years, GSM of the 5th Seven Kings Scout Group,HQ Commissioner for Senior Scouts, HQ Commissioner for Scouts, Chairman of The General Purpose Committee, A member of The Council @ Scout HQ, Leader of the British Contingent to the Philippines 1959 aged 45 years old and Deputy Leader of the 11th World Jamboree to Greece in 1963 aged 49 years.
The article below was taken from the Christ Church News Chislehurst, Kent in June 2008 and it was written by Christopher Scott as a tribute to Laurence. - I felt it was well worth adding this article, because Laurence was a person who helped shaped our lives both during the Jamboree and afterwards.
After a long, eventful and fulfilled life, Laurence slipped peacefully away on 14 May. He was one of life's real gentlemen, typified by his outlook on world events, his encouragement of others in any worthy endeavor, his general demeanour, and even his sartorial choices. (As Angela and I visited him in his final days, we, with Matthew his son, noted with affection the silk cravat worn with his pyjamas.)
Laurence came from Essex farming stock. He was one of four brothers brought up by his extraordinary mother who was widowed when the boys were very young. In his professional life he directed a fruit and vegetable wholesale business at Spitalfields Market, which meant he rose at 3am most mornings leaving plenty of time at the end of the day for a host of other outlets for his huge energy. He kept a magnificent garden; he was a Justice of the Peace, taking a particular interest in addressing youth crime; he was very influential in the Scouting movement, leading the British contingent to 10th World Jamborees in the Philippines in 1959 and deputy Leader for the 11th World Jamboree in Greece in 1963, organizing Gang Shows, and eventually rising to become Headquarters Commissioner for Senior Scouts; he was passionate about sport - an avid West Ham supporter, a follower of Essex and Bromley cricket clubs and he was a talented batsman himself playing in the 1950s, with Angela's father as it happens, for Essex Club and Ground; and he was tireless in supporting soldiers from his old regiment, the Durham Light Infantry, in whose service he received serious wounds in the Second World War.
He met his pathologist wife Rosemary in South Africa, and many at Christ Church remember her with affection. Together they moved to Camden Park Road where they nurtured Matthew, whose dedication in nursing his father in his last months was so impressive. Above all, Laurence was a deeply spiritual man, inspired more by soaring cathedrals, the rich cadences of traditional Anglicanism and the majesty of the King James Version of the Bible, than by some aspects of modern worship. Yet he recognised that God can be experienced in a multitude of ways and he was wholly supportive of alternative approaches to worship. Those at the more informal services at Christ Church often experienced that breadth of expression as Laurence's commanding presence at the lectern helped convey the authority of the scriptures. And he knew those scriptures well. In his last hours, as he struggled to speak, he could be heard whispering words from John chapter 3 verse 16 (the King James Version of course), which are the very core of the gospel that he proclaimed throughout his long life. "For God so loved the world that he gave His only begotten Son, that whosoever believeth in Him should not perish, but have everlasting life."
Peter Cooke- Commonwealth Secretary from Woking in Surrey he died in 2005 as to yet I have no more details.
It is very possible that all the 7 members of the HQ staff have died due to their age now but we have not been able to confirm this so if anybody can help us with information we would be grateful for any information received so we can up date our records.
This could be the same for the 3 Scoutmasters and 8 Assistant Scoutmasters all of whom were much older than us at the time - again any help or information would be welcome
Below are known members who have "Gone to the Great Camp Fire in the Sky" If anybody has any deatils about these members listed below or somebody else who is listed under Troops A, B & C please, please let us have the information no matter how small. Thank You.
Member's of TROOP "A"
Scoutmaster- Duncan Barber from Sheffield- no details known.
Scouts.
William Jeffery Maskell - Information has just reached me that William who lived in the Nuneaton Area sadly died in December 2011 I have no more details.
Brian Hulse -from Solihull I have been informed he has died, no more details available
Michael John Peele MC He was in Troop A
Rank: Captain Army Number: 472597 Unit: Royal 1st Bn
Biography: Educated at WyggestonGrammar School, Leicester, and RMA Sandhurst, Michael Peele was commissioned into The Royal Leicestershire Regiment on 21.12.1962. He served in 1st Bn inWatchet, Hong Kong and Borneo, and was the recipient of the last M.C. awarded to an officer serving with the Regiment. This award was for his actions on 23-24 January 1964, near Long Mau, Brunei. He later served in 4th Bn the Royal Anglian Regiment (R Anglian) in Aden, Malta and Bahrain, and subsequently in 3rd R Anglian.
Date of Birth: 1942 Place of Birth: Leicester
Date of Death: 14.10.1983 Place of Death: Eastbourne Sussex Period of Service: 1960s Places Served: Hong Kong, Borneo, Aden, Malta,
Citations: Award LG Date Regiment Service Remarks Documents MC 17 Nov 1964 Leicesters Platoon Commander, 1st R Leicester's, Sabah, 23-25 Jan 1964.
A Poppy Cross has been placed on The National Scout Memorial for our dear friend Michael John Peele MC

Bernard Spillane who has been blind for some years died earlier this year (2017)
Derek Anderson sadly died in May 2017 he was one of the founding members of our Reunion Committee which we set up in 2007/8 when we tried to find the 94 members who attended this Jamboree. Derek attended the 2009 Reunion and many others he will be sadly missed as all are.
Member's of TROOP "B"
Scoutmaster- Anthony Cutress who came from Sussex he sadly died some years ago, but his wife Margaret is one of the Presidents of Brighton District Scouts
ASM Norman Gilbert who came from Rhymney, Mons and he died some 12 to 14 years ago. I have no more details but I am hopeful I will be able to obtain some soon I understand he was friendly with Thomas Bradbury and they stayed in touch.
Scouts.
Spencer Flack -of the 21st Hendon Scout Group, came from Mill Hill, London N.W 7. Spencer ran his Flack Air-airline from Southend Airport in the 1980's he flew vintage aircraft in air displays, including escaping from a crash in his Hawker Sea Fury fighter, he was also a well known Spitfire Pilot. Spencer became a member of the Historic Grand Prix Car Association and raced Bentleys, Cooper-Bristol, Maserati 250F and Brabham BT7. In 2001 he bought BRM P258,the car previously owned by the late The Hon. Amschel Rothschild at a reported cost of one and a half million pounds. Fittingly he won the VSCC Rothschild Memorial race at Silverstone in April 2001. Spencer died driving this car at Penrite Scratch Race at the Shannon's Phillip Island Classic Festival-Australia 23rd Feb 2002. Some say that a man approaching retirement age should not have been driving a powerful Grand Prix car, but many have said both car and man were built to race, Spencer risked both his investment and his life while giving pleasure to race fans around the world. 17/06/1942-23/02/2002
Terrance Mitchell- He original came from 3rd Chiswick Scouts based at Chiswick London W4 sadly I do not know much about Terrance other than he died in 2008 after a long illness.
John Roberts - He came from Essex and I only recently found he died on 27th May 2004 in Colchester Essex he worked for many years as a Lecturer at Essex University in Colchester.
Barry Watkins- He original came from Chepstow, Mons and sadly died in a Motorcycle accident some years ago.
Bob Rayland (Died 1st February 2015)
I contacted Bob after tracing him sometime in 2011 when he living in Surrey, the County he represented at the Jamboree we kept in contact by phone or email and later that year we met for lunch at a local pub near his home.
During our meeting Bob explained he would like to be kept informed via the web site about any information that comes to light about the Jamboree and past Jamboree history, he explained he would not be attending any Reunions at this stage I realised Bob was a very private and proud man, later in 2011 Bob helped me traced another 14 new members and passed some leads onto me which I followed up.
Bob cherished his mementos of the Jamboree which included the China Bowl, Saucer and Spoon given to us on our visit to Hong Kong in 1959 so you can understand when he moved from his Surrey home to a new home by the Sea in Sussex in 2012 and all his Jamboree collection was either stolen or destroyed by the removal people this of course included the small China Set, Bob contact me and asked that I keep and eye out incase any bits turn up on ebay or were being sold on any Scouting sites.
However at around the same time another one of our members was having a clear out and sent me a load of bits this included a China Set which I was able to pass onto Bob who was delighted to receive it.
I was due to met up with Bob at his Sussex Home and have lunch together atb the begining of 2014 but Bob told me he was waiting to go into hospital for an operation so this was put off, I last contacted Bob in October 2014 and he told me he was being looked after at home and I was hoping to see him early in 2015, then I received the sad news in an email from Bob's wife on 26th Feb 2015
Patricia his wife whom he met in 1958 and married 4 years later tells me this China Set has pride of place next to two photo frames containing Bob's Queen Scout Certificate and a picture taken in 1959 by Surrey Mirror when he was selected to represent Surrey at the Jamboree.
Patricia has told me when Bob was ill last Autumn after he came out of hospital he set about writing his Memoirs of the Philippine Jamboree which he had printed to give out to all his children, grandchildren and niece and nephews so they could all read what a wonderful time and experience he had. At the same time he produced a Family Tree Book for everybod. Patricia explained that she still wears the Bracelet that Bob bought for her in India during our outward trip to the Philippines all those years ago, She also quoted "Bob is at Peace now and out of the awful pain he suffered so bravely"
One day we may all met up at 'The Great Camp Fire in the Sky'

TROOP C
Scoutmaster-Dr. John Chalmers who was in the 5th Durham and came from Durham sorry I do not have any more information
A S M -THOMAS Somerville BRADBURY of Troop C he came from Denny in Stirlingshire. I recently received this email from his daughter Meryl.........Dad was 27 in 1959, He must have had his birthday out there, as it was the 26th July. He had been a King Scout himself and a cub leader in Denny for many years. He also attended the France Jamboree. He started his career as Burgh Surveyor in Alva, Clackmannanshire not far from Denny where he grew up and was involved in scouting for many years, until work and family took over. He finished his career as Assistant Director of Central Region's Architect Department. He was married to my Mum, Stella and had my sister Pamela, followed by myself 4 years later. He continued to put a lot into the local community through the church and worked for an elderly housing charity. Many a time he came along to my Brownies and Guides to teach First Aid, Camp craft or how to wire a plug! Even although he was my Dad (and we are often their harshest critics!) I always thought he was a natural 'teacher' and had such a lovely rapport with young people. He was always so interested in other people and passionate about life. I believe this stemmed from his Scouting years and he certainly passed onto me - how to love life and explore and enjoy people and the natural environment. I am a Geography teacher and I believe his input in my early years made me love map work, the countryside and travel. I was so fortunate Roger to be very close to my Dad which I treasure but makes his absence harder. His main hobbies were golf and gardening both of which he enjoyed very much. Unfortunately, my Dad and my Mum were both diagnosed with cancer in 1994 and both died within 5 weeks of each other in 1996. He was 64. In the last couple of weeks before my Dad died he and I shared some wonderful conversations. Some reminiscing about family holidays, various scouting experiences and the Philippines 1959 was also relived. It was then he told me, that one of his few regrets in life, was leaving Scouting.............
Unfortunately, he never met his 2 grandchildren who were born not long after he died. I think he would have been a fantastic Grampa as he was so kind and patient and would have been very interested in all aspects of their lives. Iona is now 15 and Angus is 11, and a keen Scout! Angus reminds me of my Dad a lot in the particular way he goes about things and his natural connection with people. I like to think bits of my Dad live on in both my children.
I feel very privileged that he was my Dad. Naturally, I wish he had lived longer for a whole host of reasons. However, I still feel he lived a full and good life which he enjoyed. Scouting was a huge part of his life, particularly wonderful events like the 1959 Philippines Jamboree. He hugely believed in working as a team and seeing the best in people, which usually means you get the best from people.
Many thanks Roger for this lovely opportunity to connect with my Dad's past, very special indeed.
Best wishes,
Meryl
Scouts
Harry Nuttal - He was from Rochdale in Lancs and I have no more information.
Timothy Savory -From Kilmarnock, was one of those members who travelled in the 'Overflow' Party. I have added some information given to me by his son Gary who recently made contact with me.
"My father enjoyed his time in the Philippines immensely and often planed to go back to the country for another visit. However, as is often the case, other things intervened and prevented him from returning. He lived out the remainder of his life in Kilmarnock and worked in admin at the Glacier Metal in Kilmarnock. He had two sons, Keith and myself and was married to Elizabeth Savory (formerly Rankin). He was a keen golfer and enjoyed a number of other sports. He completed the Glasgow marathon and continued jogging until his illness. In 1985 he fell victim to a debilitating cancer. He was an extremely resourceful person, had a great love of nature and was often found in the garage building something or other. I am sure his time in the scouts provided him with the necessary grounding in such pursuits, which he carried into the rest of his life. Although his death was premature, I believe he lived a full and fruitful life while he was with us. My brother and I miss him greatly."
Geoffrey Ellis- Sadly Geoff died on the 6th January 2010 after an illness, we are all so pleased he came to the reunion on the 18th July 2009 with his wife Pauline. Geoff has written about his scouting life and memories under Scouting Memories and you can read about Geoff there.
David TAIT -Sadly died in 2011 in the Glasgow area.
David Pollitt - Sadly died October 2016 he was due to attend our October Reunion but was taken ill and could not attend.
I would like to add to this section my Group's Scout Leaders who bravely gave their lives during WW2 your will never be forgotten. Hopefully my wife & I can still visit some of the graves every year to pay our respect.
To all the members of my Scout Group who have sadly died during my 67 years with the Group. They were all members of the Capt. Oates Rover Crew (14th Hackney Scout Group- St John at Hackney & FSASU.
Our Second World War Scout Leaders who died.
Sgt Ronald Charles Collings (Ron) died 8th July 1944 aged 21yrs
Lieutenant WalterCharles Dorrington M B E died 9th July 1943 aged 25yrs
Pte William Alfred Surridge (Bill) died 8th March 1945 aged 25yrs
2nd Lieut. Alan Francis Piesse (Pud) died 19th July 1944 aged 24 yrs

Poppy Cross's have been placed at The Scouting Memorial for the above 4 members of our Group and for:-

Captain Roland E Philipps MC born in 1890, he was a friend of Baden-Powell and in 1913 he was Scouting Commissioner for East London. Roland & Baden-Powell corresponded regulary about the future of the Scout Movement during the war.
Roland waqs killed in action in the Somme by a snipper in July 1916 and he was awarded the Military Cross.

Some members of our Scout Group that have died since 2012.

Bob Edwards aged 92 yrs he was one of my Scoutmaster when I joined in 1953
Dennis Buckmaster (Buck) who was 84 yrs who was a cub scout leader, and our GSL for many years.
Ronald Forster (Twiggy) 83 yrs who left our group in 1964 after joining in 1947 and being involved for 17 years he then went on to start up another Group in Essex near where he was living for many years until he retired and moved to Sudbury, Suffolk. I Held a warrant with Ron to run our Senior Scouts.
John Farr aged 94 yrs in Jan 2013 who was still active right up to a couple of weeks before he died he started on 4th Nov 1930 and completed 83 years as a Scout.
Our Group President Phyllis Manning MBE aged 83 yrs died in Feb 2013 for services to Scouting she started Scouting in 1948 to 2013 (65 years) I first met Phyllis when I joined as a eleven year old.

Grainger Wilson 94 yrs died in May 2013 he was our oldest serving member.Found in Grainger's personal papers and in his handwriting was the following prayer written by him and used everyday.
' I grow stronger by the hour in God's Love and perfect power
I grow wiser by the day in God's love and perfect way'. Amen
All these people were members of the Scout Association and some members of FSASU they will be sadly missed after giving so much of their time and lives to Scouting, for the benefit of the younger people

Gone home! - to the great campfire in the sky- Not forgotten.

I would like to update my records but until I get any information about the sad loss of one of the 94 Jamboree members I am unable to list them.
Currently my information finished in April 2018