Updated 10th April 2018

Firstly - Its with sadness I have to advise you that this year we have lost 2 of our members through illness and our thoughts are with their families.
I am also aware we have several other members who are not enjoying the best of health and our thoughts and prayers are with them as well.

Secondly - Please can I ask our Members, ..If any member looking at this site has recently changed their email address or telephone number please let me know as it is they only way I can contact you and keep you updated,,,,,Thank You.

Thirdly - I would like to thank all those members who made donations to me to help keep this site going for at least another 3 years, I will be paying to extent the domain for a further 5 years from August this year.

It was very important for me to try and keep this site going, as some of the members who have contributed have never been able to attend a Reunion as they either lived abroad, distance was too far or health matters caused a problem but at least with this site there is always something to remind them of the past and I hope like me it was avery happy time for them.

The information on this site is a reminder to all those 94 young Queen Scouts who were chosen to represent the United Kingdom at this 10th World Scout Jamboree, we were all between the ages of 16 years and 18 years old most of us had never been abroad let alone flown- as many will recall a journey of a life time and best explained in the words of many as "They felt their lives had benefitted from this wonderful experience"

As all of our members are now over 70 and the majority over 75 this site helps to remind us of those wonderful days and the experience we all had so many thousands of miles away. At several of our Reunions you will often hear somebody say do you remember when we did.......and then somebody else will say I had forgotten that but it brings back happy memories.

22nd January 2010 - On this date our website went live, it was built for all our members who could not attend our 50th year Anniversary because they lived abroad or were unable to attend due to distance , holidays or illness. I have been conacted and emailed many times by old scouts, ex scouts or people generally trying to find out information about this Jamboree. I am pleased to say at least 6 members have found our group via this site, I hope all those who read it find something that interests them in 99% of the enquiries made to me I have been able to answer and if not I try to find out the answer. I also had several articles that had been written by some of our members like the late Spencer Flack which was great to read being in mind he was only 17 when he returned from the Jamboree.
I hope everybody who reads about this 10th World Jamboree on this web site finds something of interest....that makes it all worth while

Members a Date for your Diary - Our next Reunion
Just to advise members that this years (Our 10th) Reunion Lunch will be held at The Clarendon Arms Kenilworth Warwickshire on Saturday October 13th 2018 from 12.00 noon, we hope to have about 16 members plus attending plus wives & partners but I am hoping to see a few more, this year I am aware John Taylor & Stephanie are coming over from Canada yet again and I am hoping to get a few more to attend.....watch this space.


The Scouting Memorial - 'Lest We Forget' is at The National Memorial Arboretum, Alrewas, Staffs. DE13 7AR it is well worth a visit if you are in the area. I have made 3 trips since it was open in June 2016 and every visit I have seen different Memorials. I recently placed a Poppy Cross in memory of one of our members Capt.Michael John Peele MC who after the Jamboree in the Philippines in 59, was attached to the RMA at Sandhurst and was commissioned into The Royal Leicestershire Regiment on 21.12.1962 he won his MC aged 22 in January 1964 for active action in Long Mau, Brunei. Sadly he died in 1983.


10th World Jamboree held in the Philippines-in 1959 "The First Asia Jamboree" attended by 7 Headquarters Staff, 3 Scoutmasters, 8 Assistant Scoutmasters and 93 Scouts from all over the UK & 1 from Eire.

The 1st World Conclave of Eagle Scouts, King Scouts, Queen Scouts, and Crown Scouts was held on 25th July 1959 during this Jamboree. The UK had 24 Queen Scouts present of 81 delegates who attended this 'First Ever Conclave' the other 57 delegates came from 17 different National Scout Associations including, Belgium, Greece, USA, Ceylon, India, Singapore, Hong Kong, Sarawak, North Boneo, Japan, Malaya, Indonesia, China & Israel. The Conclave Badge issued at this day is quite a Rare Badge because of the low number issued.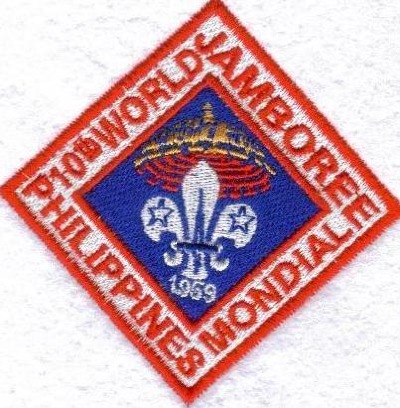 Jamboree History -All information contained on this website has been supplied by our Members or passed onto me -thanks for what you have sent keep it coming!
The Badge illistrated here on the left is a COPY (its simular to the Original Parcipants Jamboree Badge) and was produced to put on our Polo Shirts it was decided not to put the original badge as it would be used by unknown dealers who would copy it and sell it as an original.

My reasons for setting up this Website. I have set this website up for the 112 Scouts and Leaders who represented the whole of the UK at the above World Scout Jamboree, many are no longer with us but I am hoping the information contained on this website will help jog a few 'old' memories.
Plus I have added a lot about my Scouting History mainly in Hackney East London with the 14th Hackney (St John at Hackney) since 1953 and the Capt Oates Rover Crew who I joined in 1961 plus some personal items regarding my Scouting over the years including visits to Kandersteg, Switzerland etc.,

Tracing "Old Members"- We are always and have never stopped looking for our old members who attended this Jamboree

The Special Reunion-2009.- Our First Reunion, some information how this was set up and some pictures of the reunion where 25 members got together for the first time since 1959 - on July 18th 2009 exactly 50 years to the day that the Jamboree started.

Reunions have been held every year since 2009 and we hope to continue!
In 2010 only 10 members attended including 2 new members David Steele & Dennis Wiseman. In 2011 we opened the venue up to wives/partners etc., and we changed the date to October and the venue to Kenilworth. Another new member Bill Branston joined us and we had 14 members and 5 wives. In 2012 again we had 2 new members Malcolm Scott & Garth Scholfield join us and sadly David & Sue Pollitt another new member could not join us as Sue had to go into hospital, on the day we had 14 members and 8 wives.

Reunion 2013 -Our 5th since meeting up in 2009, about 12 met for lunch including 3 wives/partners, sadly John Harris was missed for the first time as he was recovering from an operation. I had many replies from members who could not make it due to other commitments.

Reunion's 2014 was held in October/2015 early November/2016 was held in October 2017 was held in October/ 2018 will again be held in October we are now getting a steady number and we now have the private room to ourselves, at The Clarendon


Troop 'A' - Some history and information supplied by members of that Troop A has been included, names of people traced and the only member who we are still trying to trace.-

Troop 'A' - Members Scouting History

Troop 'B' - All Information has been supplied by members together with traced members names and those we are still trying to trace.

Troop 'B' - Members Scouting History

Spencer Flack's Article -(B-Troop) This article written by Spencer on his return from the Jamboree in 1959 and will give you an insight as a 17 year old Queens Scout saw it.

Philip Walters - (B Troop) - Jamboree Memories.

Troop 'C' - All Information has been supplied by members together with Traced members names and those we are still trying to trace.

Troop 'C' -Members Scouting History

OBITUARIES -'Gone Home' -This page is dedicated to all those 'Leaders & Scouts' who have gone "To the Great Campfire in the Sky" I thought it would be a fitting tribute, to remember our 'Old Friends' with some information or history if possible. Recently I added more information about our Leader Laurence Stringer!

Commemorative Polo Shirt - Full details on this page, - They are only available for those members who attended the 1959 Jamboree.-

During this 10th World Jamboree it will be remembered also as holding the 1st World Conclave which was a gathering of holders of the highest rank in their respective National Scout Associations.
On the 25th July 1959 during the Jamboree approx 200 delegates from 29 different National Scout Associations which included Eagle Scouts, King Scouts, Queen Scouts and Crown Scouts were taken from the Jamboree to Manila and served a buffet lunch at the Manila Coca-Cola Royal Plant, time was allowed for some swimming for those who had taken swimming trunks. During the meeting one Scout from each Country or National Scout Association was asked to day a few words about their Scouting advancement. At this Conclave each member was given a printed Conclave Eagle/King/Queen & Crown Scouts felt badge measuring 110mm x 80mm and it has become a collectors item as it is one of the rarest badges because only a small number of non-Philippine Eagle Scouts participated or were invited to attend this event.
The UK were asked to send 24 Queens Scouts along to attend this venue and below are the list of our members taken from a list supplied by Neil W Larsen (From the USA) It seems from my records that 8 members were selected or chosen from each Troop, they were :-
David Claymore, Mike Clark, Roger Bagguley, Ian Dow, Kenneth Edwards, Brian Hulse, Richard Homer, Len Davies, Terry Mitchell, Geoffrey Mullett, Gregor MacGregor,Roger Norman(Myself), Robin Oborn, David Pollitt, Michael Peele, Russell Skillen, Robin Strang, Tommy Turner, John Roberts, Bernard Spillane
Peter Sampson, Brian Woodcock, Barry Page, Michael Bates.
Gentlemen do you remember the visit to the Coca- Cola Factory ? Have you still got your very rare Conclave badge... please email with your comments. Roger
An interesting note is that 25 Queen Scouts were listed in our Register this included a Kenneth Mann who I can tell you is not recorded anywhere on any documents regarding the UK contingent and this has become a mystery of how he was listed as one of us.


Future Programme- Our quest continues, as we are still looking forward to finding the other 14 Scouts who are known to somebody out there! We will hold another reunion in 2018 this will be 59 years since the Jamboree was held when we hope those members who could not attend in past reunions might be able to come along together with any new members traced to date.

26th Asia-Pacific Regional Scout Jamboree -28th Dec.09/ 3rd Jan 2010 held at Original Jamboree Site at Mt. Makiling, Philippines- we were luckily to have 2 original members-Mike & Derek who took their wives as part of a planned holiday, Mike & Sue Phillips & Derek & Gillian Anderson who attended this event.

Contact Details- Here you will find details of how to contact the committee and myself, any information regarding tracing Old Scouts and Leaders etc, who attended this Jamboree would be greatfully received as would any information that can be added.

Photographs- Any information regarding this matter, please direct your enquiries to one of the committee members who should be able to assist you.

Last updated 10th April 2018